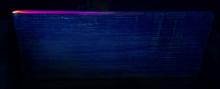 The majority of powder bed systems for additive manufacturing use galvo-scanners, which enable fast translation of the laser spot across the working area. However, one of the drawbacks of galvo-scanners is distortion of the projected laser spot on the surface of workpiece, whilst the beam is being translated. This can result in non-uniform build characteristics during the powder bed additive manufacturing process. Furthermore the process is optimised only for one particular machine with a particular optical set-up, which imposes transferability issues when applying the process on different machines.

In laser welding a similar issue with data transferability has led to many research studies in this aspect.  Previous work at Cranfield University has shown that deep penetration welding is controlled by a set of laser material interaction parameters, which characterise the spatial and temporal distribution of laser energy on the surface of workpiece. These parameters define the process uniquely and are laser system-independent.  

In this project a set of interaction parameters that controls the fusion characteristics and profile of build layers in powder bed systems will be identified.The overall goal of this project is to make the selective laser melting process more robust and transferable between different powder bed systems. These fundamental parameters can also be used for optimisation of the laser powder bed system in terms of process efficiency and scale-up to higher powers and build rates. The first phase will develop the relationship between the fundamental laser material interaction parameters and powder melting characteristics.